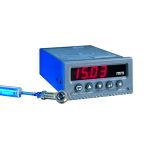 DMP200
Description
Document
Contact us
Description
The DMP200 series consists of four universal-input digital panel indicators offering unparalleled price and performance. The use of surface-mount components and modern microprocessor technology has enabled powerful features to be packed into a standard 1/8 DIN case, with measurement performance significantly better than other indicators in their price range.
Product brand Penny & Giles.
Universal input
Isolated analogue output
Digital status inputs
Transmitter and transducer supplies
Four alarm set points
Front-panel function buttons
Universal mains power supply
Maths functions
Serial communications
Dual alarm relays
Compatible with Penny & Giles rotary or linear position sensors
The four models can be used for both simple ´measurement only´ applications and in more demanding situations requiring digital communications, alarms, maths functions and complex signal conditioning. The powerful menu-driven software enables fast, flexible set-up from the front panel or via the serial communications interface. No adjustment of internal trim pots, internal links or plug-in cards is necessary.
The DMP200 series is ideally suited to operate with Penny & Giles linear and rotary potentiometers, providing a 10 Vdc or 0-12 Vdc transducer supply. This model is also suited to operate with thermocouples and RTDs, as well as pressure transducers, load cells and strain gauges.
Document

  DML300 brochure