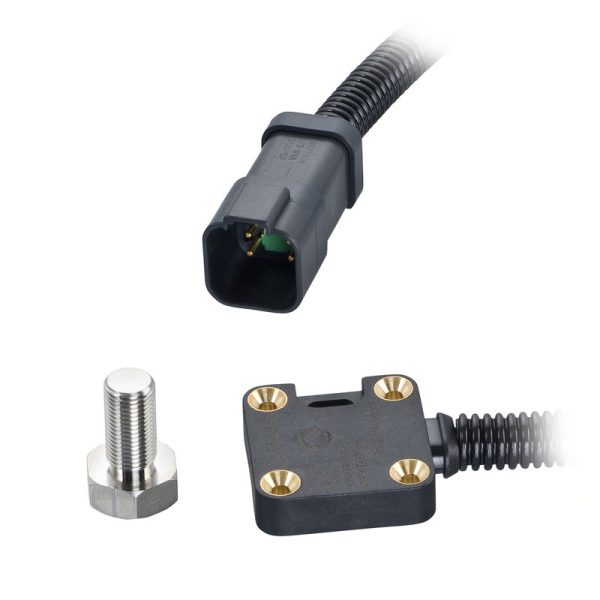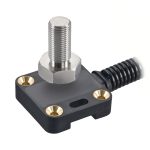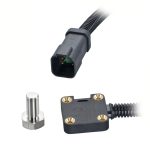 NRH275DR – Dual-Redundant Output, No-Contact, Rotary Position Sensor
Description
Document
Contact us
Description
NRH275DR no-contact rotary position sensor is a legacy product used by existing customers. For new installations and applications, we recommend selecting the modern equivalent NRH271 or NRH272 no-contact rotary position sensor, which has the same mounting footprint and magnet options, but has the added advantage of operation from a 5V regulated and 9-30Vdc unregulated supply.
A dual-redundant output, no-contact, rotary position sensor with a slim, low-profile sensor housing and separate permanent magnet assembly.
Product brand Penny & Giles
No-contact technology with external position magnet
Unlimited mechanical lifetime – wear free
Will operate from -40 to +140°C
Withstands water immersion to 1m for 24 hours (IP67)
Simple mounting and low-profile (9.5mm) design
Minimal weight
5Vdc regulated supply
Analog (0.5 – 4.5 or 0.1 – 4.9Vdc) or Digital (PWM) outputs
Measurement range from 0-20° to 0-360° in 1° increments
12-bit resolution (0.025%) over the angular range
Extremely low signal noise level – less than 1mVrms
Electrically interchangeable with potentiometers
Available with 6x 18 AWG individual wires or terminated with Deutsch DTM04-6P or AMP Superseal connectors. NC10 protective conduit is also available.
NRH275DR operates from a 5Vdc (±0.5) regulated supply to each independent sensor channel, and has two independent outputs, enabling full redundancy from a very low-profile 36 x 35mm package.
NRH275DR has a moulded polymer enclosure with metal mounting inserts. The encapsulated Hall-effect sensor system can withstand high shock and vibration as well as operate up to +140°C, and is protected to IP67 (dust protection and water immersion to 1m depth for 24 hours). The sensor is activated by a separate magnet – available in a choice of three magnet housing styles.
NRH275DR is designed for applications in extreme environments where space is limited.  It also allows up to ±2mm radial magnet offset, with a permissible air gap of 2-7mm between the sensor and magnet. The transmissive properties between the magnet and sensor also allow operation through non-magnetic materials.
The NRH family of rotary position sensors is ideal for specialist vehicle applications in extreme and hostile environments where installation space may be limited. It enables system designers to improve the safety and integrity of their control systems by using the dual independent power supply and dual output signals.
Document

  NRH275DR brochure