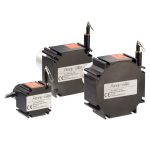 DLS – Draw-Wire Linear Sensor
Description
Document
Contact us
Description
DLS is a compact sensor that provides accurate measurement in a range of strokes up to 5000mm and is ideal for use where space is a constraint or where traditional linear potentiometers are not suitable.
All are encased in a high strength aluminium housing and sealed to IP65 for use in harsh environments. They provide virtually infinite resolution with a long life cycle and can withstand temperatures from 20 to 80°C.
The highly flexible stainless steel measuring wire is wound onto a drum with the aid of a long-life spring motor. The winding drum is linked axially to a multi-turn potentiometer, incremental encoder or absolute encoder. Linear movement is transformed into a rotation by the draw-wire principle and converted into a proportional analogue signal or to countable increments. The sensors can be supplied with a choice of analogue outputs (potentiometer, 0-10Vdc voltage or two-wire 4-20mA current) or digital outputs provided by encoders.
The sensor can be orientated in any direction and has mounting grooves on four sides of the housing to make the sensors easy to install. A range of accessories is also available to assist the user during installation including: magnetic holders for the wire clip; wire extensions; pulleys; and mounting clamps. Electrical connections are via a one metre integral cable or eight-pin flange connector to DIN 45326.
Models and sizes
DLS-P60 with measurement range 100 to 1500mm.
DLS-P96 with measurement range 2000 to 3000mm.
DLS-P115 with measurement range 3000 to 5000mm.
Potentiometer
Input: 14-27Vdc unregulated.
Outputs: 0-10Vdc or 4-20mA.
Encoder
Outputs: HTL square wave, CAN, SSI or Profibus.
Document

  DLS – Vajergivare – brochure